TROPE
TROPE IS:
Diana Studenberg – Vocals
Dave Thompson – Guitars
Todd Demma – Bass
Sasha – Drums
As everyone knows, our Rock Goddess Power Hour is a big deal here at NFR. Though we've often failed to deliver in giving our audience a female lead vocalist for our featured artist. So it's only fitting that our featured artist for the month of March give you just that!
TROPE gives off the vibes of the great progressive rock sounds of the late 90's and early 00's. A lost artform loved by many in the mainstream and underground music scenes. Their sound is similar and unique at the same time bringing with it a lead vocalist that will make many wonder why more there aren't more female vocalists in this genre. Keeps tuned in all month long to hear back-to-back tracks from TROPE throughout the entire month of March. Check out the videos for their current release 'Pareidolia' and then 'Lambs' below!
Trope is an alternative rock band with progressive elements located in Hollywood, LA featuring vocalist Diana Studenberg. The band formed in 2016 and spent the next couple of years writing and re­cording demos which became their debut album "Eleutheromania".

After recording the demos for "Eleutheromania", they garnered the attention of the music industry including Mike Fraser (ACDC, Metalli­ca) who agreed to engineer the album. David Bottrill (Tool, Peter Ga­briel) also expressed interest and agreed to creatively consult and
mix the album. Ted Jensen (Eagles, Dave Mathews Band, Pantera, AIC) mastered the album.

Trope have performed shows internationally in Europe and Los An­geles in such legendary venues including LA's Whisky A Go-Go and The Viper Room and the world's largest music festival, Summerfest, where they played the main stages in the past two consecutive years and have shared stages with Switchfoot and Sevendust.
They also shared stages with world class comedians including lliza Shlesinger [Unveiled/Netflix], Steve-0 [Jackass], David Koechner [An­chorman], Bryan Callen [Hangover], Harland Williams [Something About Mary] and more.
They've recently been featured as one of HEAVY Mag's Top 40 Female Rock Acts in their Ladies of Rock Edition in good company with Lzzy Hale, Lacuna Coil, Arch Enemy, Jinjer, The Runaways, and more.

Trope's music combines hypnotic rhythms with dark, progressive el­ements while shimmering-to-angst vocals cascade over the top. The toncept of "Eleutheromania" which means "a manic zeal for free­dom", permeates their music which craves to break free from pat­terns.
Eleutheromania drops on March 31.
Track Listing:
1. Lambs
2. Plateau
3. Breach
4. Shout (Album Version)
5. Surrogate
6. Hyperextend
7. Pareidolia (Album Version)
8. Planes
9. Privateer
10. Seasons Change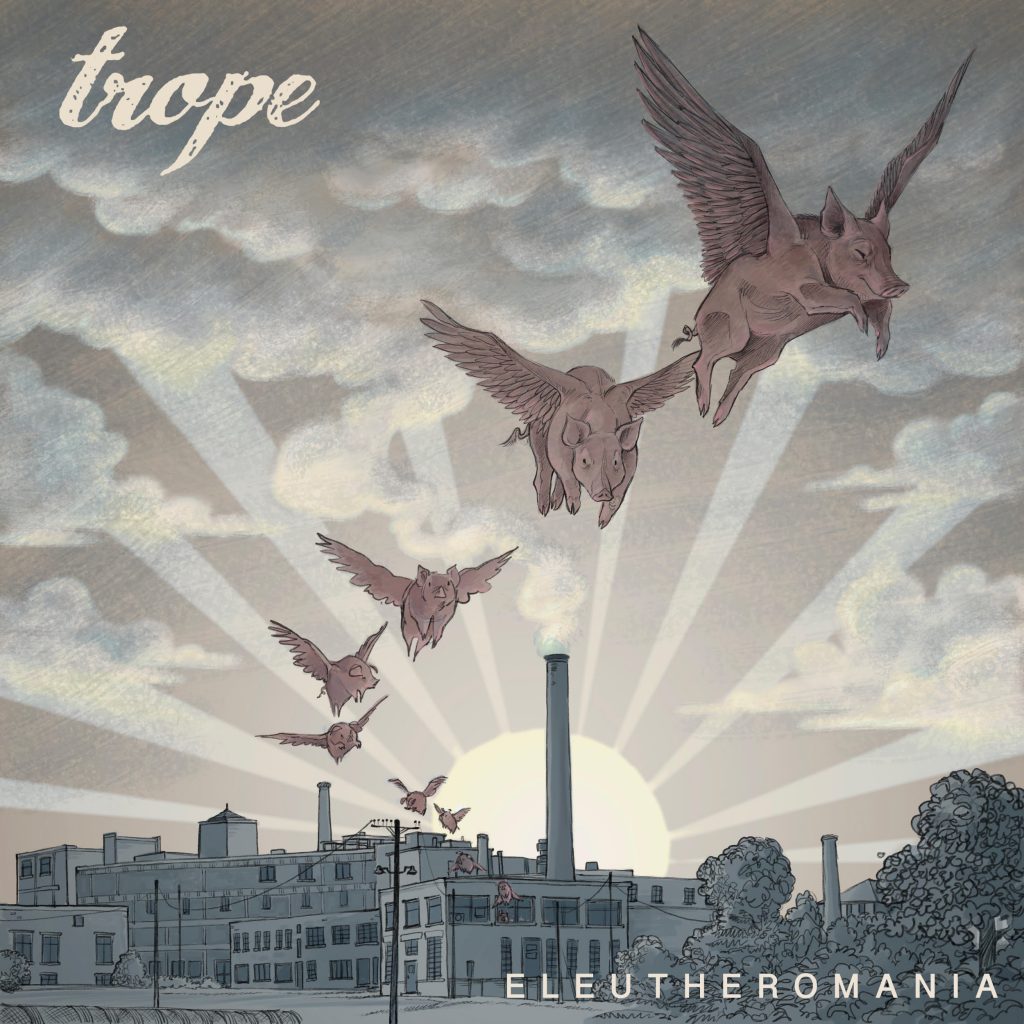 TROPE:

WEBSITE: http://www.tropetheband.com/
FACEBOOK: https://www.facebook.com/TropeBand
INSTAGRAM: https://www.instagram.com/tropeband/
TWITTER: https://twitter.com/TropeBand
SPOTIFY: https://open.spotify.com/artist/1dFOyNJR6px6zWvJVA8DIa