Review: Sanktuary – Winter's Doom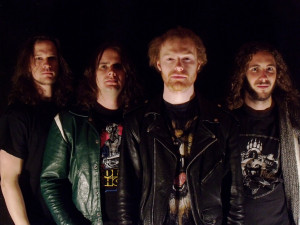 Sophomore albums are often times the defining album from today's artists. Anyone can put out one good album that people enjoy, but it's tough to take that step to move into the realm of the music gods that can hold the attention of today's ADHD metal audience. To hold the attention of the radio audiences today, you need adrenaline, fist pumping action, killer riffs, and something to get lost in. Sanktuary has given all of that to us in their self-released sophomore album 'Winter's Doom' released on January 22.
'Winter's Doom' is the follow up to their 2013 album 'Something Fierce.' We knew back a few years ago that these guys had something special. Hailing from the Yukon territory of Canada in the city of Whitehorse where there's not much else to do but be cold and play music, these guys chose to keep warm with invigorating guitar riffs in their music that keeps those in warmer climates wanting to rip their clothes off from the heat of the music they're hearing.
The album's lead off track 'Space Race' hits you immediately with a burst of adrenaline that sets up the theme of the entire album, with in your face high speed thrash metal from start to finish. Throughout the album lead singer Alan Binger punches out screaming vocals that land almost perfectly in sync with drummer Anders Grossholm. Whether it's intention or not, It's not very often to hear this unique singing style to where the singer and drummer are in almost perfect sync. Binger shares the guitar spotlight with Glen Emond and Cole Hume rounds out the group with a bass line that any metal band today would be envious of. Not many metal bands today feel so in tune when you're listening to them, nor do they have the feel where everyone has an equal part in the music that is being listened to. Sanktuary has a chemistry that can be felt from the start of 'Winter's Doom' to the very last note of the final track 'Maximum Authority.'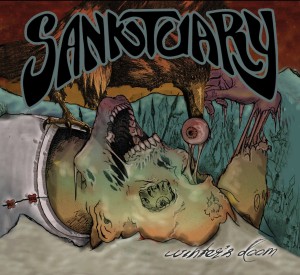 Normally we like to go through and pick our favorite tracks off an album. This is usually our way of saying to listen to these and skim around the rest. With 'Winter's Doom' we can't do that. This is an album that you need to listen to from start to finish. Every track on the album will leave any fan of high speed thrash metal feeling sated, but at the same time begging for more of Sanktuary's music to be thrown their way. Not many albums deserve this respect, but 'Winter's Doom' is one of those unique albums that deserves any true metal fan's undivided attention.
Sophomore albums are key in the music industry and while they don't have to be life and death, they are an important part of any bands career. Sanktuary has delivered with theirs and we expect many great things from these guys in the coming years. With this proven style of music that is an art unto itself, Sanktuary brings us new hope when it comes to high speed thrash metal, and they give us many great things to look forward to in the years to come. For now, 'Winter's Doom' will be blasting loud in our ears and when we need to wake up, or just need to feel better about the day, the radio dial will be cranked up to this fantastic album.

Stream 'Winter's Doom' here.
Visit Sanktuary's Facebook Page