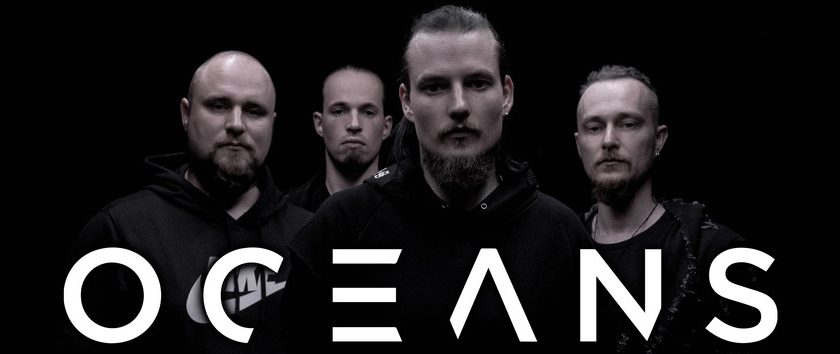 Recently, OCEANS released their first single 'WE ARE NØT OKAY' from the upcoming digital EP of the same name, that is due to be released on April 30th. Today, the band follows up with the second single from that masterpiece, titled 'VOICES'.
Dealing with schizophrenia, an often misunderstood and yet very serious condition, the song is completed by the mesmerizing voice of Lena Scissorhands (INFECTED RAIN) and once again proves the band's stunning ability to merge different music styles into their work.
The single comes with a visualizer, that you can watch below:
Timo Rotten states: "This song is fragile and violent. It displays self love and self hatred at the same time. We tried to capture a particular state of mind with 'VOICES', it's basically our own interpretation of paranoid schizophrenia. OCEANS has always been about contrast, because most things in our world do have multiple sides to it, especially with mental health everything is multi-layered.
Normally, I try to transport that with my use of growls and clean singing, but Lena's vocals put the whole thing on a whole different level. The sheer amount of emotion in this track makes me shiver every time I listen to it."
Lena Scissorhands adds: "Being part of the song 'VOICES' was an easy decision for me. I loved the lyrics and the music right away. The message is raw and very relevant to the current society we live in."
ICYMI:
"WE ARE NØT OKAY" feat. Andy Dörner (CALIBAN): https://youtu.be/g6A4yCf2Q1A
The EP "We Are Nøt Okay" will be released on April 30th and contains four different songs dealing with all aspects of mental illness. Each track wil feature a special guest adding his very own style to the new output of Berlin/Vienna based post metal heroes OCEANS.
Exclusive physical bundles of the EP, including a Ltd. CD Digipak + Shirt (ltd. to 200 copies!), are available through: https://oceansofficial.com/store/cds-lps/
Comments
comments