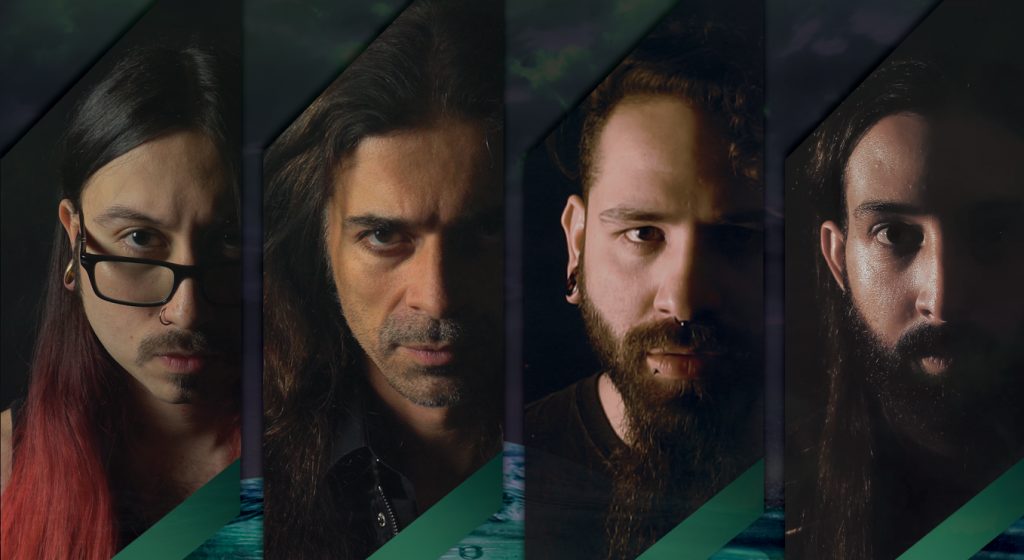 Escape from the mindlessness of quarantine in the past 10 months has been difficult for many. One of the best things about quarantine though has been the explosion of new music coming from artists who have had nothing but time to sit around and come up with new material since their public concert dreams have been squashed by a virus that has put us all in a funk.
Well tell that funk is told to shut up as progressive/power metal group IMMORTAL GUARDIAN has a new album coming out in February entitled 'Psychosomatic' that will bring new life to your immortal soul and make you re-think that rock and metal is dead. This second full-length album is one of our favorite types of albums a 'transition album' in which each track flows directly into the next when listening from start to finish. An art lost among many artists is brough to fruition in the best way with 'Psychosomatic' and for fans of being able to lose themselves in an album, this particular album from IMMORTAL GUARDIAN delivers in full.

The vocals of Carlos Zema find a full range of clean screaming in the title track 'Psychosomatic' to ballad suave that comes forth in 'Candlelight.' The guitar riffs throughout the album from Gabriel Guardian put him up there with some of the best guitarists in rock history. Hello, Slash are you listening? Add in the powerful melodic bass of Texas' own Josh Lopez and cure for listlessness drumming of Justin Pie3dimonte from Montreal, Quebec, and you have one of the best hard rock/metal ensembles that we have seen in over a decade.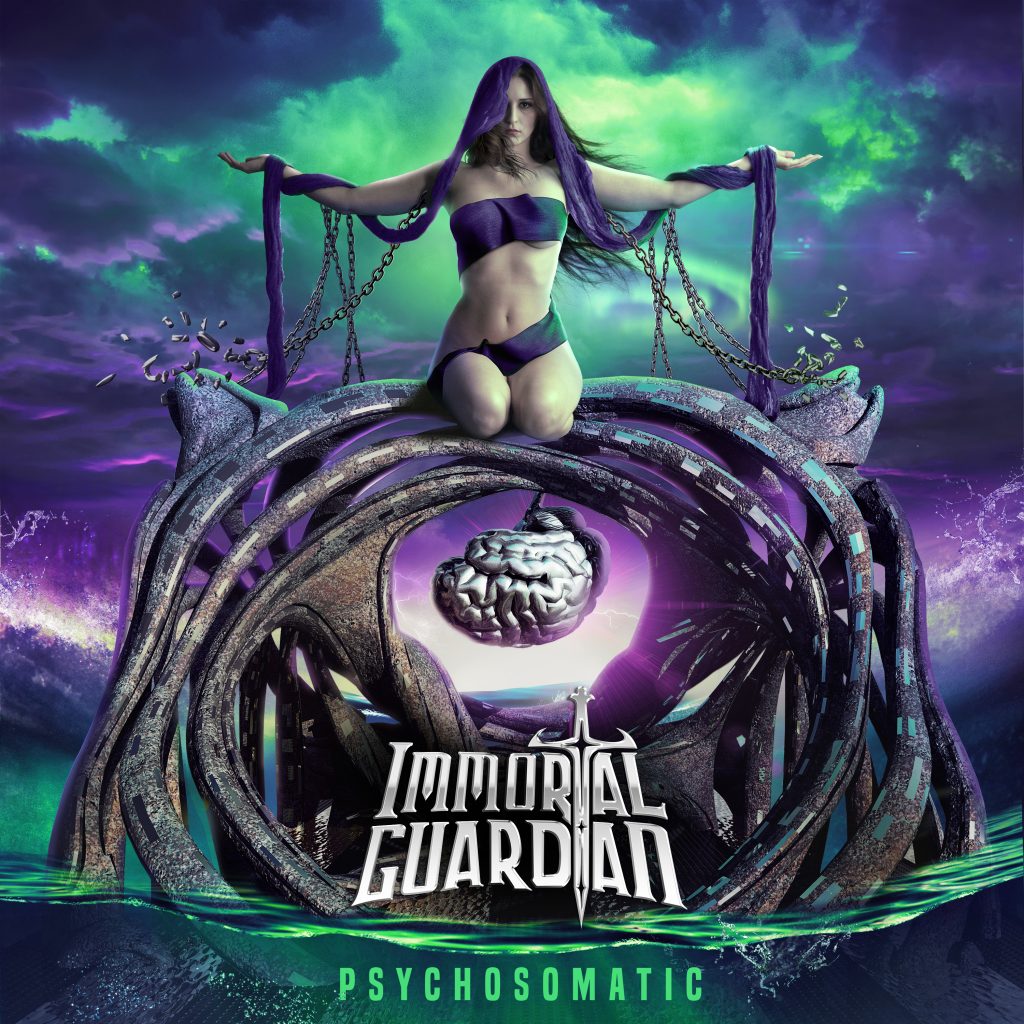 From start to finish, 'Psychosomatic' delivers a one-two punch in metal that will have classic fans of bands like Dragonforce, Iron Maiden, and Symphony X screaming for more while dragging in a new modern audience that will appreciate the fresh artistic ensemble talent of North America's best metal group to date. There is not one track on this album that disappoints to those that appreciate balanced music and not adding these tracks into normal listening rotation is a mistake for anyone who genuinely enjoys melodic metal.
On A scale of 10, we give 'Psychosomatic' a solid 9.
'Psychosomatic' releases on February 12, 2021 from M-Theory.
Psychosomatic track list:
1. Psychosomatic (5:33)
2. Read Between The Lines (6:01)
3. Lockdown (4:12)
4. Phobia (6:13)
5. Clocks (5:12)
6. Self-Isolation (0:39)
7. Goodbye To Farewells (5:50)
8. Candlelight (5:24)
9. Find A Reason (7:00)
10. New Day Rising (5:56)
About IMMORTAL GUARDIAN:
The seeds of progressive/power metal group IMMORTAL GUARDIAN were sown by band founder and native Texan Gabriel Guardian in 2008. The guitarist/keyboardist began his mission of delivering "super metal" packed with melody and shred, and the group would begin evolving into its current form with two acclaimed self-released EP's, 2013's "Super Metal: Edition Z" and 2014's "Revolution Part I", the latter produced by Roy Z (Bruce Dickinson/Halford). The EP's showcased Guardian's full-frontal assault of anthemic melodies, technical rhythms, and furious shred, and were augmented by the high-energy, high-flying vocals of Carlos Zema, who had already built his name through stints with respected Brazilian power metallers Heaven's Guardian and Houston progressive-metal act Outworld.

IMMORTAL GUARDIAN began building their following throughout their home state of Texas with live performances alongside some of the biggest names in heavy metal, including Judas Priest, Dragonforce, Kamelot, Symphony X, Sonata Arctica, Slayer, Metal Church, Soilwork, and Steve Vai. The buzz that has been built by their EP's and live performances led to the group signing with M-Theory Audio for the release of their 2018 full-length debut, "Age of Revolution". The album was hailed by MetalSucks as "seriously epic", and by Angry Metal Guy as the "front-runner power metal record of the year." The band was applauded by Metal-Observer as "stylistically trail-blazing" and by Metal Utopia for its combination of "technicality, diversity, and power." IMMORTAL GUARDIAN further cemented their reputation as a thrilling live act by touring relentlessly for the next eighteen months, touring nationally in support of fellow shredders such as Marty Friedman, Powerglove, and Exmortus. The group also spread their brand of melodic progressive/power metal worldwide by performing in countries as far-and-wide as Russia and Brazil, and with high-profile performances at ESPN's X-Games, South by Southwest, and Fun Fun Fun Fest.

IMMORTAL GUARDIAN guitarist/founder Gabriel Guardian also has a very active presence on YouTube, garnering hundreds of thousands of views on the platform for his self-produced videos showing off his uncanny ability to play guitar and keyboard simultaneously. His cover of "Sweet of Child O' Mine" was shared on Facebook by Guns N' Roses themselves and received over one million views within 24 hours, and other dual-instrument covers of songs by the likes of Iron Maiden and Pantera have also won over social media audiences. Guardian's abilities have also been showcased on the MTV series, "Amazingness".

Gabriel Guardian and Carlos Zema gathered in Las Vegas at the beginning of 2020 alongside new drummer Justin Piedimonte and bassist Joshua Lopez to record the second IMMORTAL GUARDIAN full-length album. As the spread of COVID-19 and the subsequent pandemic began to ensue, each member of the band retreated to their respective hometowns. With shutdowns around the world being enforced, the band completely scrapped the record that they had been working on and were heavily inspired to write and create a new thematic record about their emotions surrounding current events. The resulting album, "Psychosomatic" (set for release Feb. 12, 2021 on M-Theory Audio) was a truly multi-national record, with guitarist/keyboardist Guardian remaining in Las Vegas, Zema recording his vocals from his home in Brazil, Piedimonte recording his drumming performances in his hometown in Montreal, Canada, and Lopez recording bass guitar in IMMORTAL GUARDIAN's native Texas. In addition to his new role as the group's bassist, Lopez also handled recording engineer duties on the new album, as he had on the group's previous record, "Age of Revolution".

Despite the challenges presented by the global pandemic, "Psychosomatic" is the next step in IMMORTAL GUARDIAN's evolution while still capturing the band's exhilarating trademark melding of melodic power metal with progressive/shred tendencies.

Discography:
2021 – Psychosomatic (M-Theory Audio)
2018 – Age of Revolution (M-Theory Audio)
2014 – Revolution, Part 1 (EP)
2013 – Super Metal: Edition Z (EP)
IMMORTAL GUARDIAN:
FACEBOOK: https://www.facebook.com/igmetal/
INSTAGRAM: https://www.instagram.com/immortal_guardian/
TWITTER: https://twitter.com/igmetal
Comments
comments